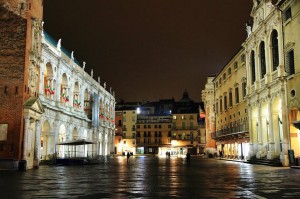 Vicenza is the city of Andrea Palladio, the architect of the Renaissance whose style has been imitated all around the world, inspiring nevertheless than the White House in the U.S.
An "open air museum" of the work of the Vicenza architect: the breathtaking Teatro Olimpico, the majestic and elegant Basilica Palladiana, declared National Monument in April 2014, but also several palaces and villas throughout the province area.
The city of Vicenza and the villas of Palladio have been included in UNESCO World Heritage List in 1994-1996.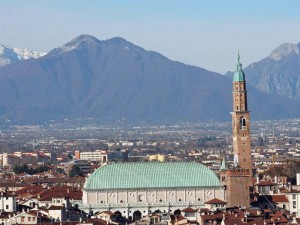 Vicenza is the city of gold thanks to and old heritage in gold and jewels manufacture. The companies that today are working in this sector create unique jewels that are exported all over the world.
Not only! The trip in the area will drive you to discover a land rich in culture, history and art with the town of Bassano, very beautiful historical centre, and Marostica, town of the chess match with living chess pieces.
The rich wine and food heritage and interesting opportunities of shopping – several brands from Vicenza are famous in the world – certainly contribute to fully appreciate Vicenza and its territory!